The Family Law Organizer (FLO for short) was the first community of practice to be housed on Lawbster, and it's the platform's pilot community. FLO was formed by a grassroots committee of BC family law professionals. CLBC stepped forward to assist FLO's founders by creating Lawbster in 2017. FLO has around 600 members, all BC family law professionals."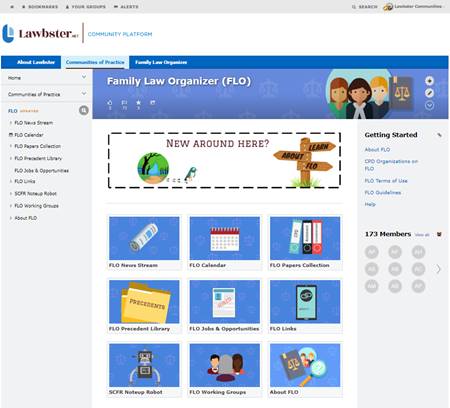 FLO features:
FLO working groups -

restricted spaces and private discussion forums can be set up for groups within the overall family law professional community, currently featuring:

FLAP (Family Law And Procedure), a chat forum for family lawyers and paralegals
ELF, a discussion group for emerging family lawyers (7 years call or fewer)
A working group for child protection work (includes both parents' and Director's counsel
A working group for parenting coordinators
A dedicated paralegals discussion forum

FLO calendar - discover family law CPD courses and events, search for courses bytopic, and comment on or follow events.
FLO news stream - browse family law related news items in a single feed, contribute community news, and more.
FLO precedent library – sharing precedents, advice and case law is part of mentorship, and any member can  upload, request, and search through a library of community precedents for practice with shared advice, precedents and difficult to find cases
FLO papers collection  - where articles, research papers and case comments can be shared.
FLO jobs & opportunities – a free jobs board exclusively for family law.
FLO links - curated links for family law lawyers, including a complete set of links to CanLII noting up the Supreme Court Family Rules.
FLO's community statement:
FLO is a community of legal professionals established to improve the practice of family law by encouraging dialogue and the free exchange of knowledge, building relationships within the family law bar and related professions, sharing precedents, papers and other practice resources, and improving the experience of family restructuring after separation for children and adults.
Membership in FLO
Membership in FLO is free, as is an account on Lawbster, for those who qualify. Membership is open to Law Society of British Columbia members, as well as designated paralegals (as defined in the Code of Professional Conduct) and other established family law professionals  (considered on a case-by-case-basis by the FLO Steering Committee).
Apply for access online or by emailing lawbster@courthouselibrary.ca.