Classification and call numbers at CLBC
All CLBC collections, physical and digital, are searchable through our catalogue. Using the catalogue you can discover which branch holds which resource, as well as the item's call number. 
Call numbers describe where each resource lives within our collection and in relation to each other based on its subject. Call numbers allow material of similar subject matter to be shelved together. 
We use a classification system called Moys to assign call numbers to each resource. Moys call numbers are created using a combination of letters and numbers: 
K130.B593 2019 - Black's law dictionary 
KM221.B75A11A56 - Annotated British Columbia Human Rights Code 
What does a call number say? 
 
KN319.2.P472C65 2011

  KN

  319.2  

  Identifies the main subject area in the collection where the item should be held.

  .P472

  C65

 Organizes the item on the shelf by last initial of author or title or the book. Can be one or several groups of letters and numbers.
  2011
  Can be any combination of publication year, volume and/or copy details.
How to read and organize call numbers 
CLBC call numbers start with 'K' or 'K and a second letter' 

'K' comes before 'K and a second letter' 
'K and a second letter' are filed in alphabetical order 'KA', 'KB', 'KC', etc. 

Read the number as a whole number 

'KN5' is shelved before 'KN50', both are shelved before 'KN399' 
This continues after the decimal so, 'KN391.25' is shelved before 'KN391.3' 
Examples 
| | | | |
| --- | --- | --- | --- |
| K before KA  | K130.C65 1994  | before  | KA1.A56 2002  |
| .K before .L  | KN254.K47  | before | KN254.L57  |
| .C31 before .C8  | KF55.C31  | before | KF55.C8  |
| 337.35 before 337.4  | KM337.35.T86  | before | KM337.4.G78  |
| v.1 before v.2  | KM208.T371 v.1  | before | KM208.T371 v.2  |
| 2011 before 2022  | KM320.B52 2011  | before | KM320.B52 2022  |
Calls numbers on the shelf 
You will read and shelve a call number from left to right and top to bottom within a bay of shelving: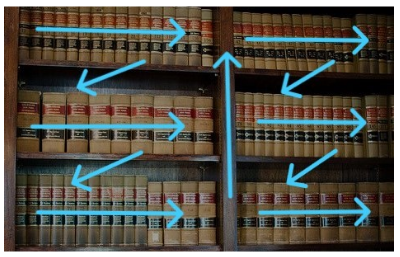 Top level classification
| | |
| --- | --- |
| K | Reference |
| KA | Journals |
| KB | Medical/Health/Prison |
| KC | International |
| KD | Religious Systems |
| KE | Ancient and Medieval Law |
| KF | Common Law – Primary - UK  |
| KG | Common Law – Primary - US  |
| KH | Common Law – Primary - Australasia  |
| KL | Common Law – Treatises - General  |
| KM | Common Law – Treatises – Public Law  |
| KN | Common Law – Treatises – Private Law  |
| KP | Canadian - Primary  |
| KR | Africa |
| KS | Latin America |
| KT | Asia and Pacific |
| KV | Europe |
| KW | European Union |
| KZ | Other |