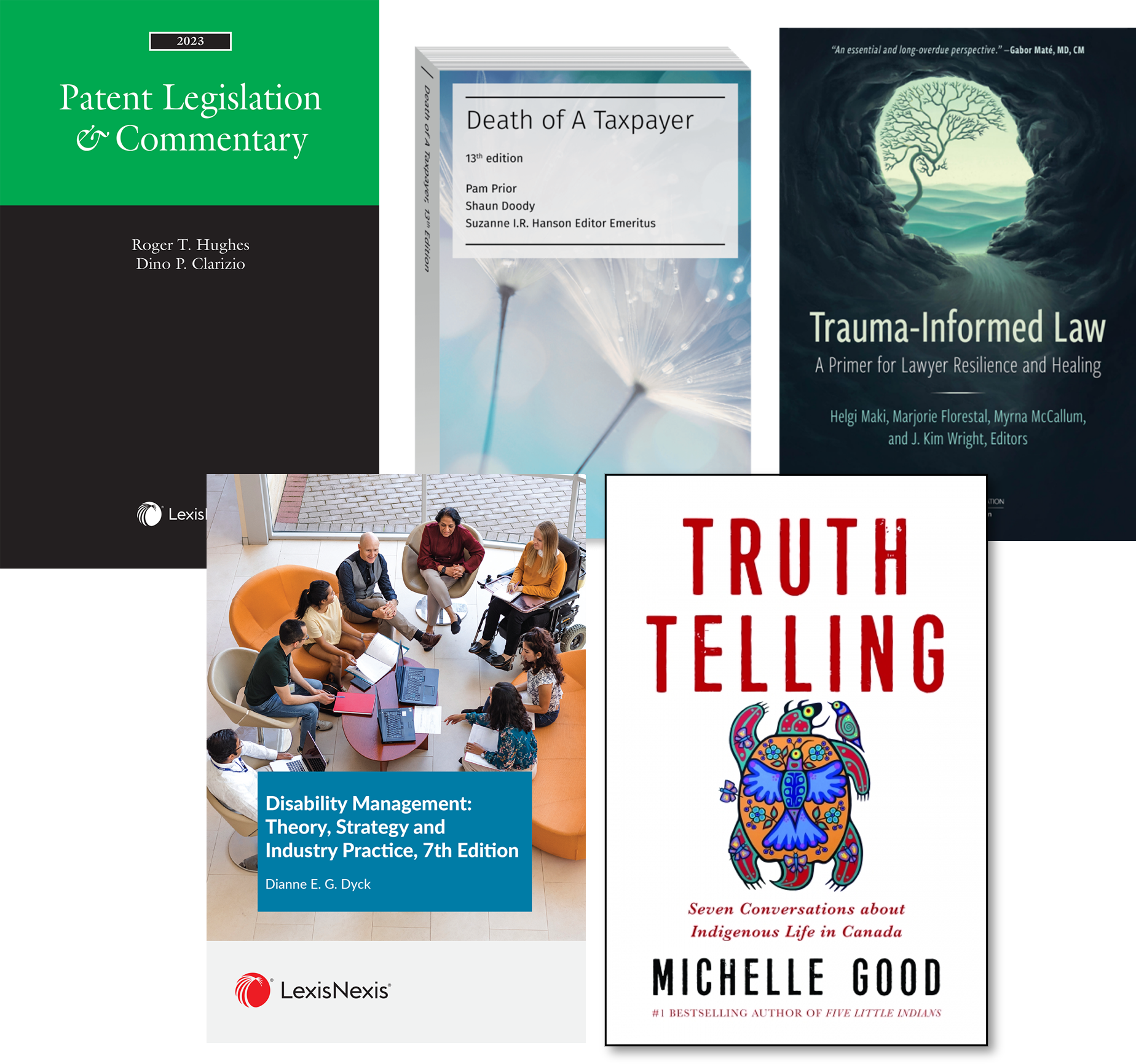 Truth Telling: Seven Conversations About Indigenous Life in Canada / Michelle Good
KM208.I5G66 2023
Click here to view this title in the catalogue
Truth Telling is a collection of essays about the contemporary Indigenous experience in Canada. From resistance and reconciliation to the resurgence and reclamation of Indigenous power, Michelle Good explores the issues through a series of personal essays.

The collection includes an expansion and update of her highly popular Globe and Mail article about "pretendians," as well as "A History of Violence," an essay that appeared in a book about missing and murdered women. Other pieces deal with topics such as discrimination against Indigenous children; what is meant by meaningful reconciliation; and the importance of the Indigenous literary renaissance of the 1970s.

With authority, intelligence and insight, Michelle Good delves into the human cost of colonialism, showing how it continues to underpin social institutions in Canada and prevents meaningful and substantive reconciliation.
On the shelves now at our Kamloops branch.
Disability Management: Theory, Strategy and Industry Practice, 7th edition / Dianne Dyck
KN192.2.D93 2023
Click here to view this title in the catalogue
This book is the perfect resource tool for creating, implementing, and understanding how to integrate an Integrated Disability Management Program with other workplace programs, and provide proven management solutions to Canadian employers.
On the shelves now at our Vancouver branch.
Trauma-Informed Law: A Primer for Lawyer Resilience and Healing / Myrna McCallum
KL91.M35 2023
Click here to view this title in the catalogue
Trauma-Informed Law discusses the many intersections of trauma and law where it is often denied, ignored, covered up, or avoided. The book is intended for lawyers, law students, legal educators, and judges, as well as decision-makers, administrators, staff, and anyone impacted by the court.

It is a collection of cases and situations with practice implications for other cases impacted by trauma, whether those cases and situations involve race, class, gender, different physical or mental abilities (or disability), sexual orientation or other diverse factors including the impact of developmental health issues, addiction, substance abuse, poverty, access to opportunities, community safety or belonging and more. Each scenario holds useful implications for both practice issues within the same area of law and even in other areas of law or the legal system.
On the shelves now at our Abbotsford, Kamloops, Kelowna, Nanaimo, New Westminster, Prince George, Vancouver, and Victoria branches.
Death of a Taxpayer, 13th edition / Suzanne Hanson
KM337.3.H35 2022
Click here to view this title in the catalogue
Death of a Taxpayer offers a comprehensive review of the relevant income tax implications that occur at death. Fully updated to reflect the latest budgetary pronouncements, legislative changes, new case law, CRA administrative positions, this exclusive edition provides guidance to help minimize the tax burden on the estate of the deceased taxpayer.

Designed as an all-in-one resource for tax professionals, it contains detailed information on the intricacies of estate planning and income tax compliance.
On the shelves now at our Vancouver branch.
Patent Legislation & Commentary, 2023 edition / Roger Hughes
KN114.1.H832 2023
Click here to view this title in the catalogue
This patent law desktop reference for IP practitioners, agents and clerks brings together the full text of current and former versions of the Patent Act and Regulations and Rules, and related legislation, and material. The year in review and the introductory commentary fully update you on legislative, jurisprudential and practice developments.
On the shelves now at our Vancouver branch. 
Contact or visit your local branch to borrow!
Item not available? Contact us to put this title on hold 
Phone: 1-800-665-2570
Email: librarian@courthouselibrary.ca
Request a title as a Book-in-a-Box! 
*All images and descriptions taken from publisher websites